1. First Signup On Sign-up On Boat Site
Products Suggestions
Rugged V3 Micro USB 1.5 Meter @ ₹49
A 350 Type C Cable 1.5 Meter @ ₹99
Micro USB 100 1 Meter @ ₹99
Deuce USB 300 @ ₹99
2. Now Add Any Products Into Cart. I Have Added Rugged V3 Micro USB 1.5 METER Worth ₹149 Into Cart
3. Apply The Code (It Will Shown On Header Of Your Mobile) –
REFC6B59B9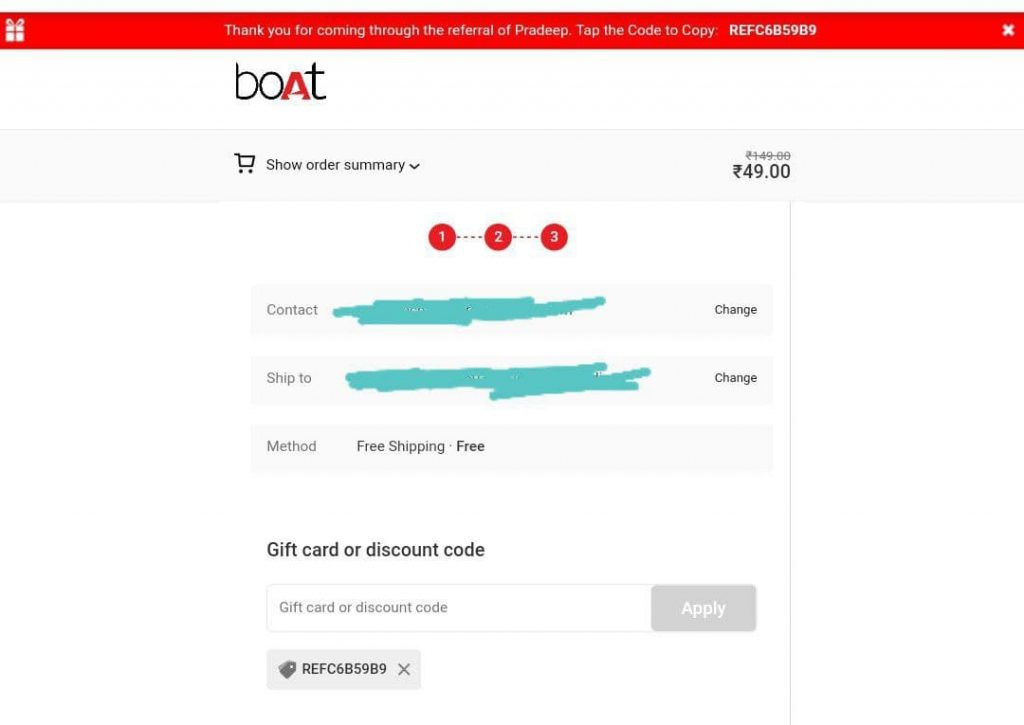 4. You Will Get ₹100 Instant Off On Your Cart
5. There Will Be Free Shipping Too
6. Complete Your Purchase Using Any Available Payment Methods
7. Done !!
8. You Can Get Your Referral Code too If You have Made Any Purchase Before From boAt Website. Purchase Any Small Product Like ₹99 & You Will Be Able To Refer Your Friends too.
boAt Code Not Working Solution :
Code is Working After Refer & Earn ,,, Refer & Earn Will Unlock After 1st Order
So just buy anything and then you get your own code after that cancel the order.
Now create new account Using your link and apply your own code to get ₹100 off